Project Acquisition and Planning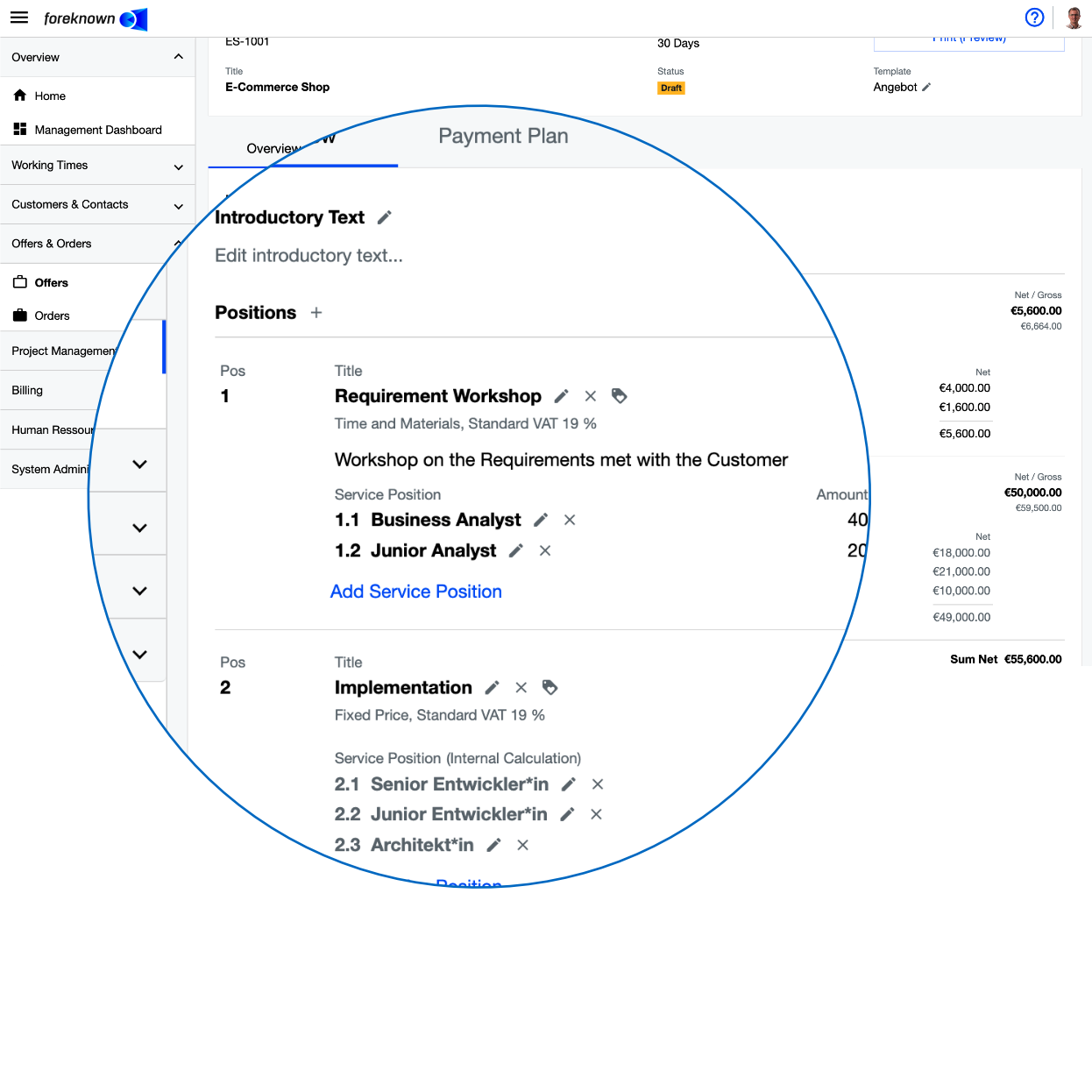 Manage Offers
Professional offers can be created based on individually designed templates for both time-and-materials and fixed-price projects with payment schedules, and later converted into orders.
Design custom offer templates in MS Word
Support of different billing types according to

fixed prices with payment plans
spend time efforts per service type
packages and products

Central management of service types

Order generation at the push of a button
Export of the offer as a PDF document
Reuse of offers through copy function
Determination of payment plans for fixed price items
Manage notes in a chronicle
Learn more about managing offers in the foreknown documentation.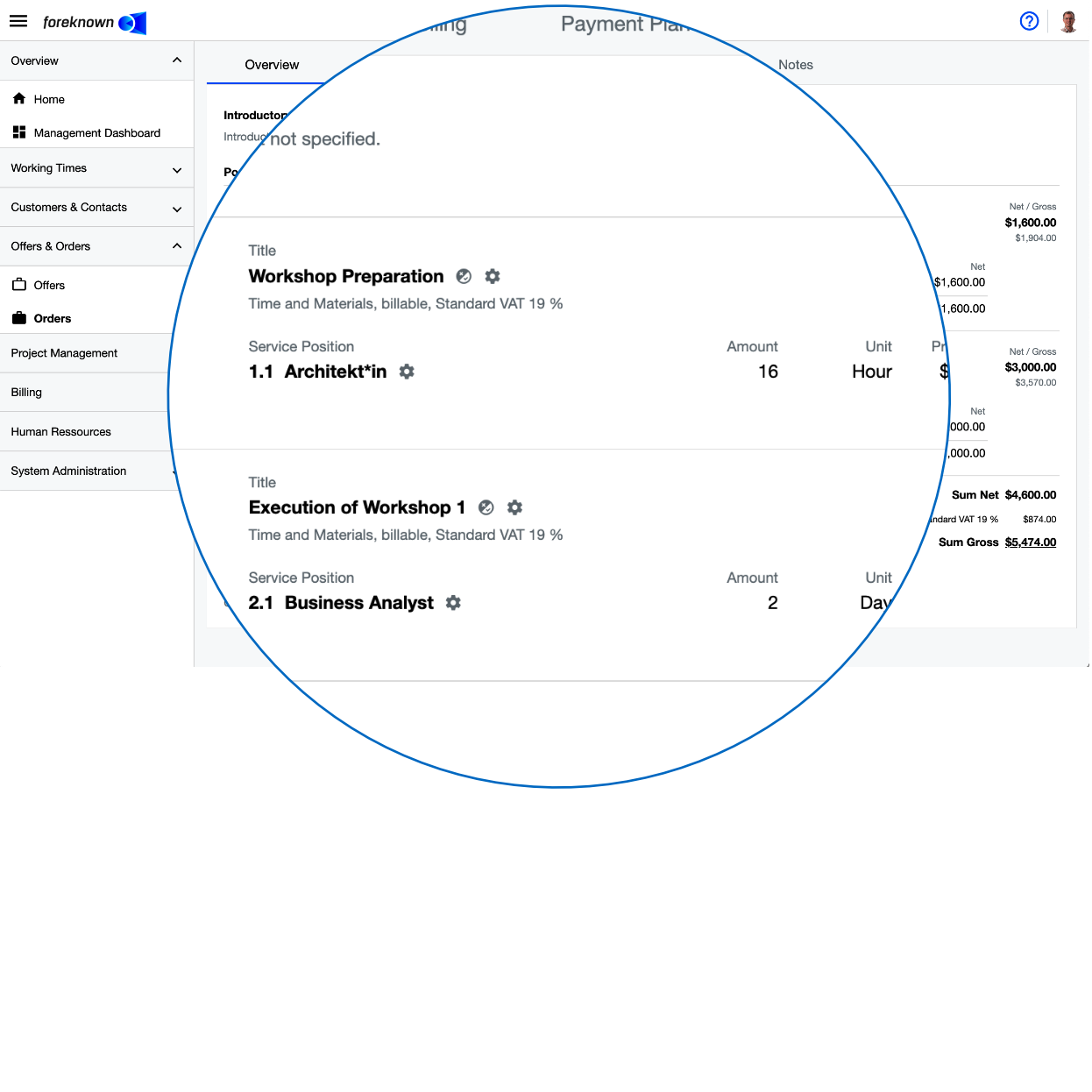 Manage Orders
Create your orders simply on the basis of won offers and thus provide the basis for the implementation, reporting and billing of services.
Design individual order templates in MS Word
Generate orders easily from offers
Versioning for transparent change management
Export of orders as PDF documents
Manage notes in a chronicle
Learn more about managing orders in the foreknown documentation.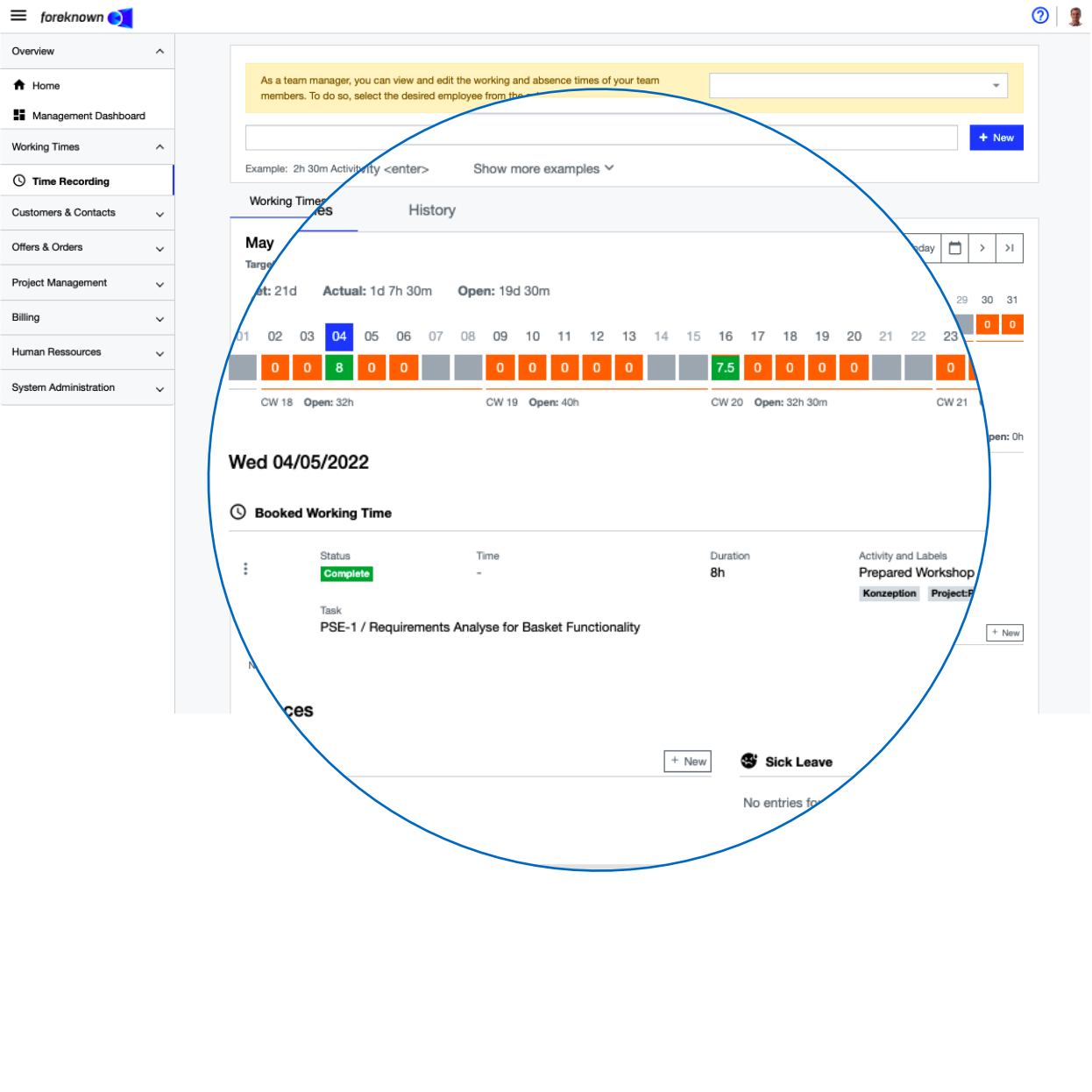 Transfer work logs from Jira
Projects, tasks, users, and work log entries sync directly with foreknown to provide all the data needed for performance generation and up-to-date team and project metrics.
Direct transfer of Jira and/or Tempo work log entries (via webhooks)
Automatic transfer of Jira projects, tasks and users
Identification and transfer of

important milestones as labels (sprints, epics, labels, ...)
Tempo account as label

Automatic generation of billable services based on rules
Direct update of all KPIs on order, project, task and team level
You just need to install the foreknown Jira plugin and connect it to your foreknown account to get all these benefits!
Read more under System Administration / Apps in the foreknown documentation.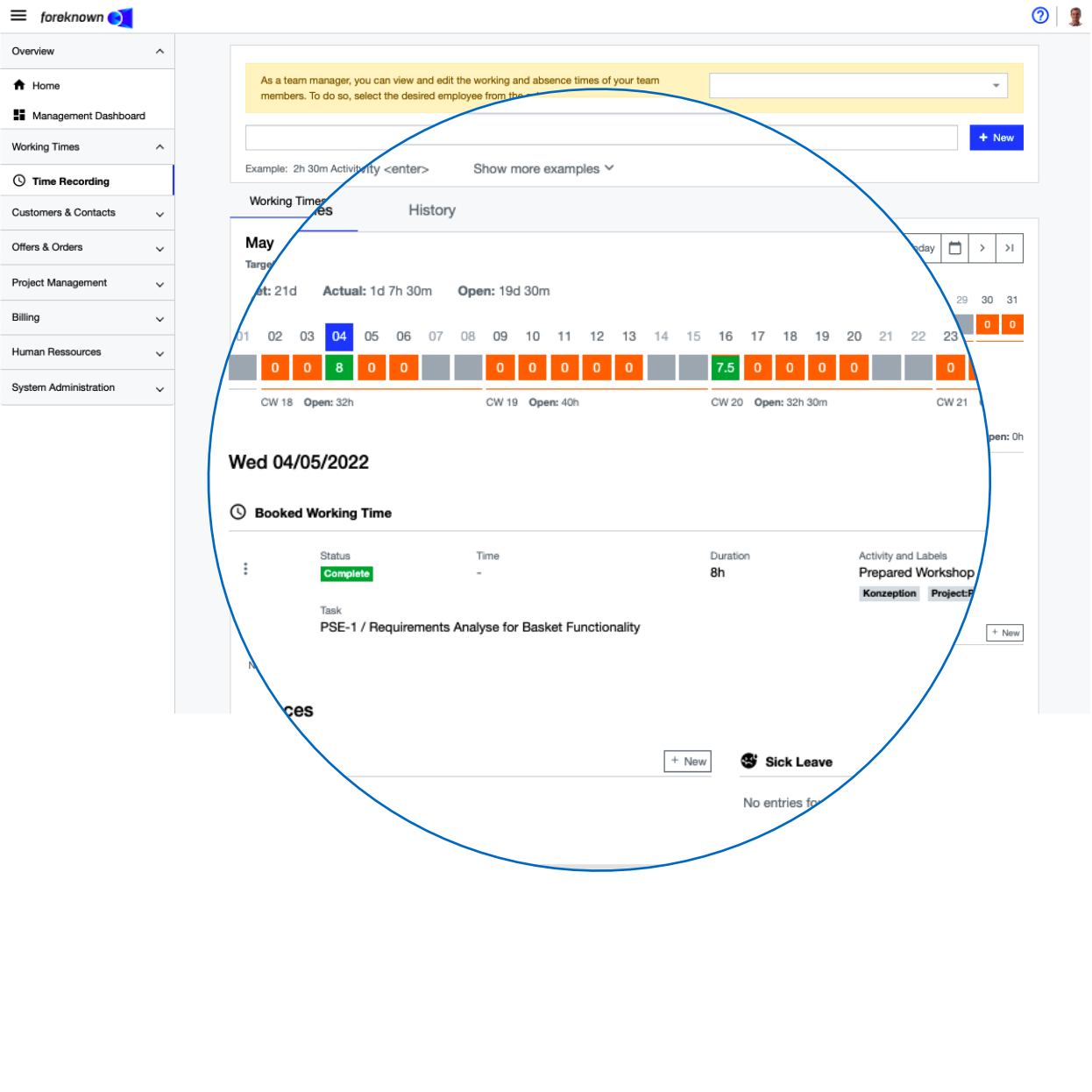 Time Tracking
Record your activities easily and clearly in foreknown and assign them to the corresponding orders / order items.
Simple and quick booking via our intelligent worklog field
Monthly overview with detailed progress display (target, actual and open times)
Consideration of the target working hours, which are stored at the employee contract
Consideration of absences due to vacation, illness, ...
Assignment of labels for automatic assignment to order items
Determination of non-billable services per working time booking
Learn more about tracking worklogs in the foreknown documentation.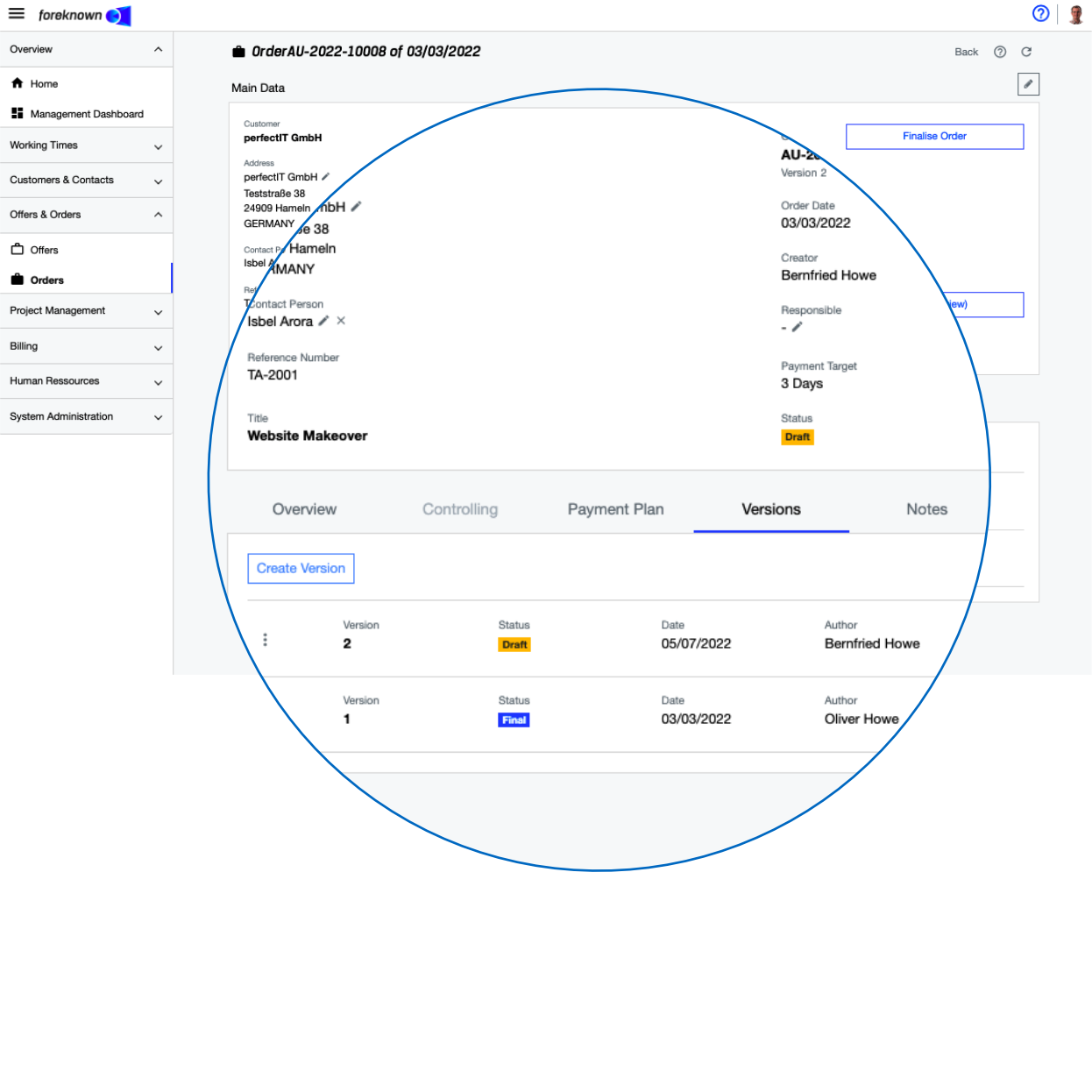 Control your Change Management
It is usual for requirements to change during the implementation of orders. It is only important that such change and functional requests are handled in an orderly and transparent manner so that their impact on budget and runtime can be identified and communicated directly.
Changes are reflected by new versions of the underlying orders
Influences on order volume, budget and duration are made visible
All changes are made transparent via a version list
Create a legal basis: New order versions can be confirmed by the customer
Learn more about change management of orders in the foreknown Documentation.
Project and Team Controlling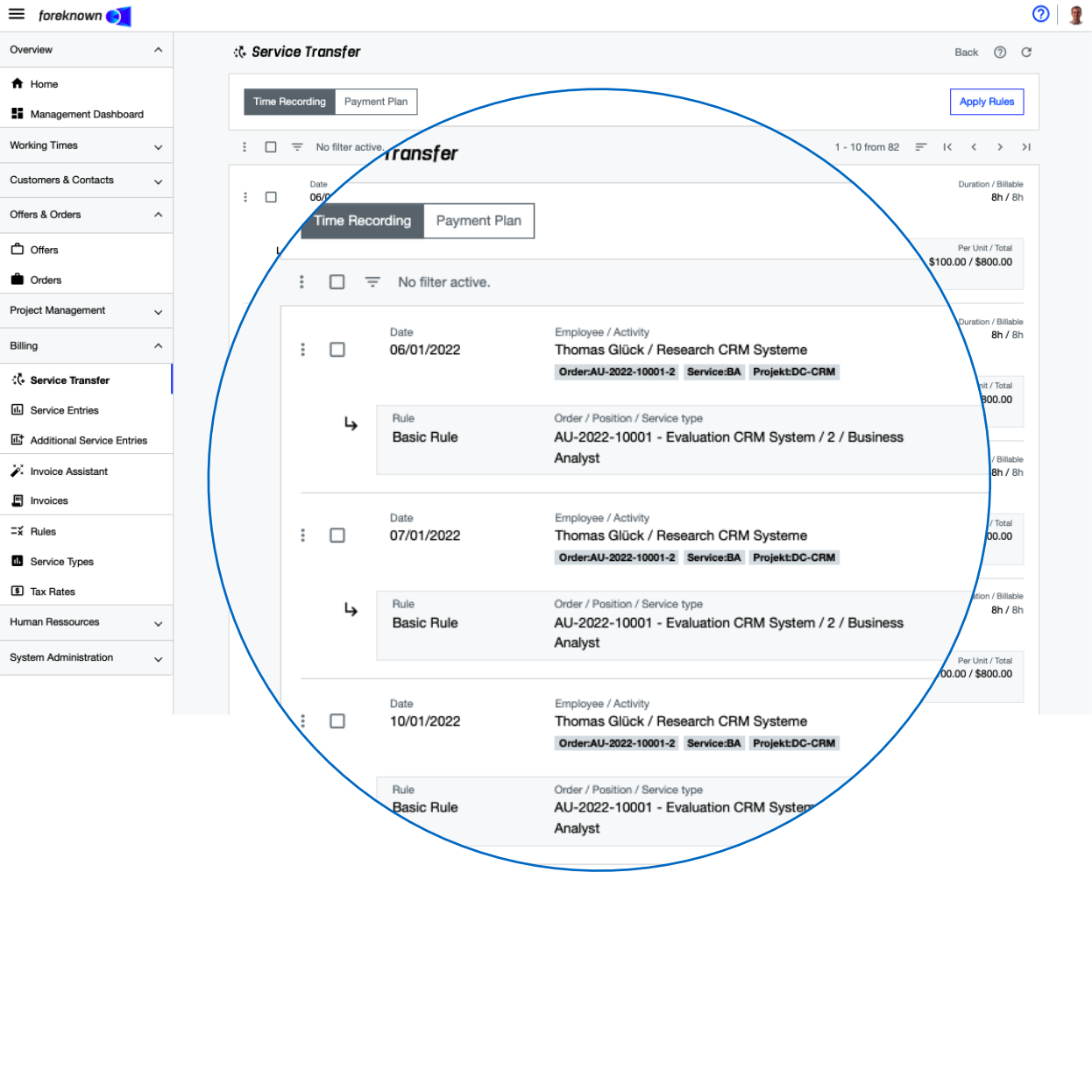 Bill all services due
With foreknown you can ensure that your hours worked, partial payments due and other additional services such as travel expenses, software licenses are always billed promptly, accurately and completely.
Working Hours

Definition of rules for automatic assignment of working times (also from Jira) to orders, order items and activity types.
Manual or automatic generation of billable services
Correction option with regard to actual billable hours
Administration and evaluation of generated services

Partial Payments from Fixed Price Orders

Management of payment plans on fixed price orders
Generation of billable additional services based on a list of due partial payments

Additional Services

Creation/administration of additional services with reference to corresponding order items
Learn more about service transfer, management of services and additional services in the foreknown documentation.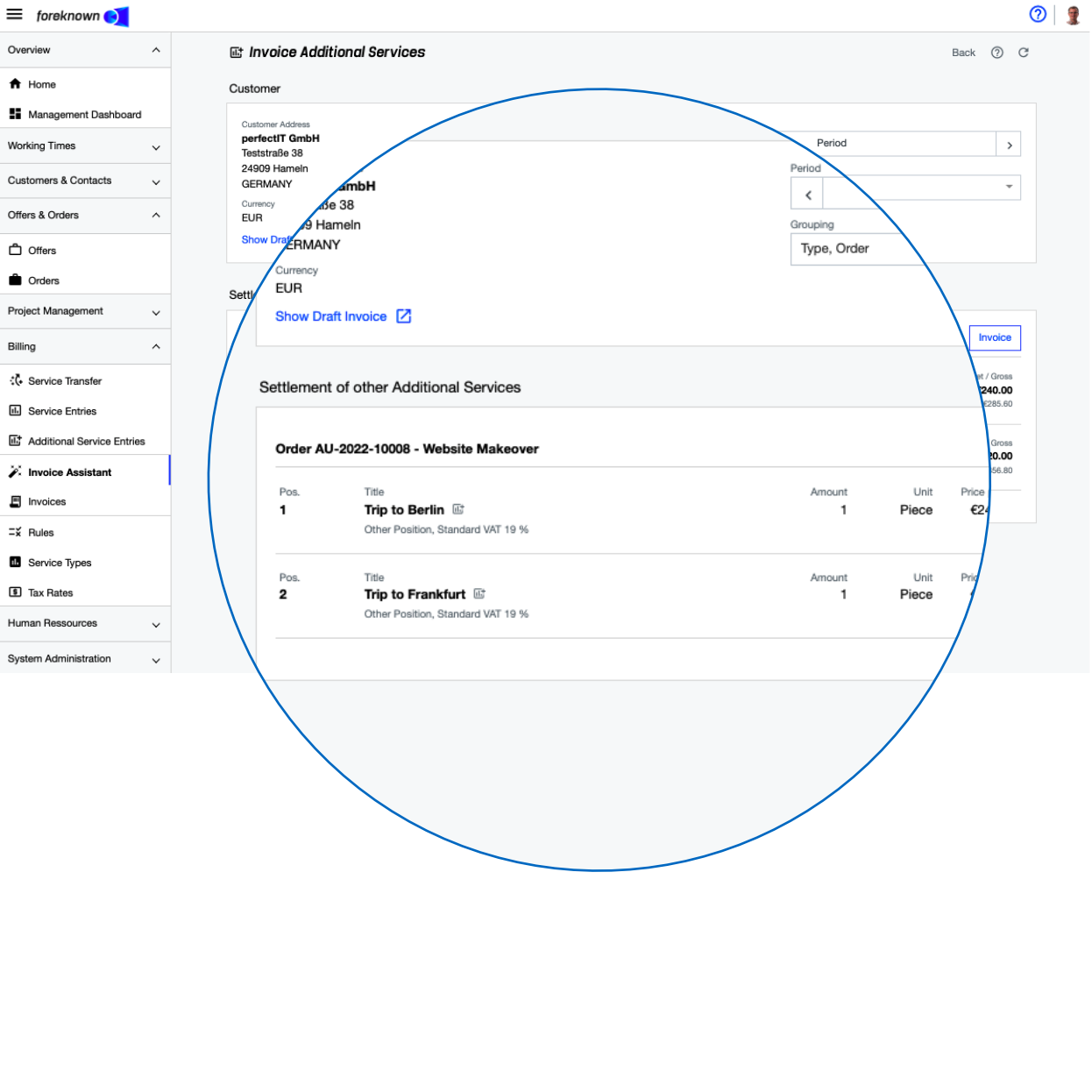 Create Invoices
Create your invoices with foreknown's invoice assistant based on orders, billable services and payment plans.
Invoice assistant for the generation of invoices

Selection of the customer and associated order
Consolidationof billable services into invoice items

by Order, Order Position and Service Type
by Order and Service Type

Adding additional services due to payment plans or other costs


Create individual invoices based on MS Word templates
Export invoices as a PDF documents
Learn more about the Invoicing Assistant and the Management of Invoices in the foreknown documentation.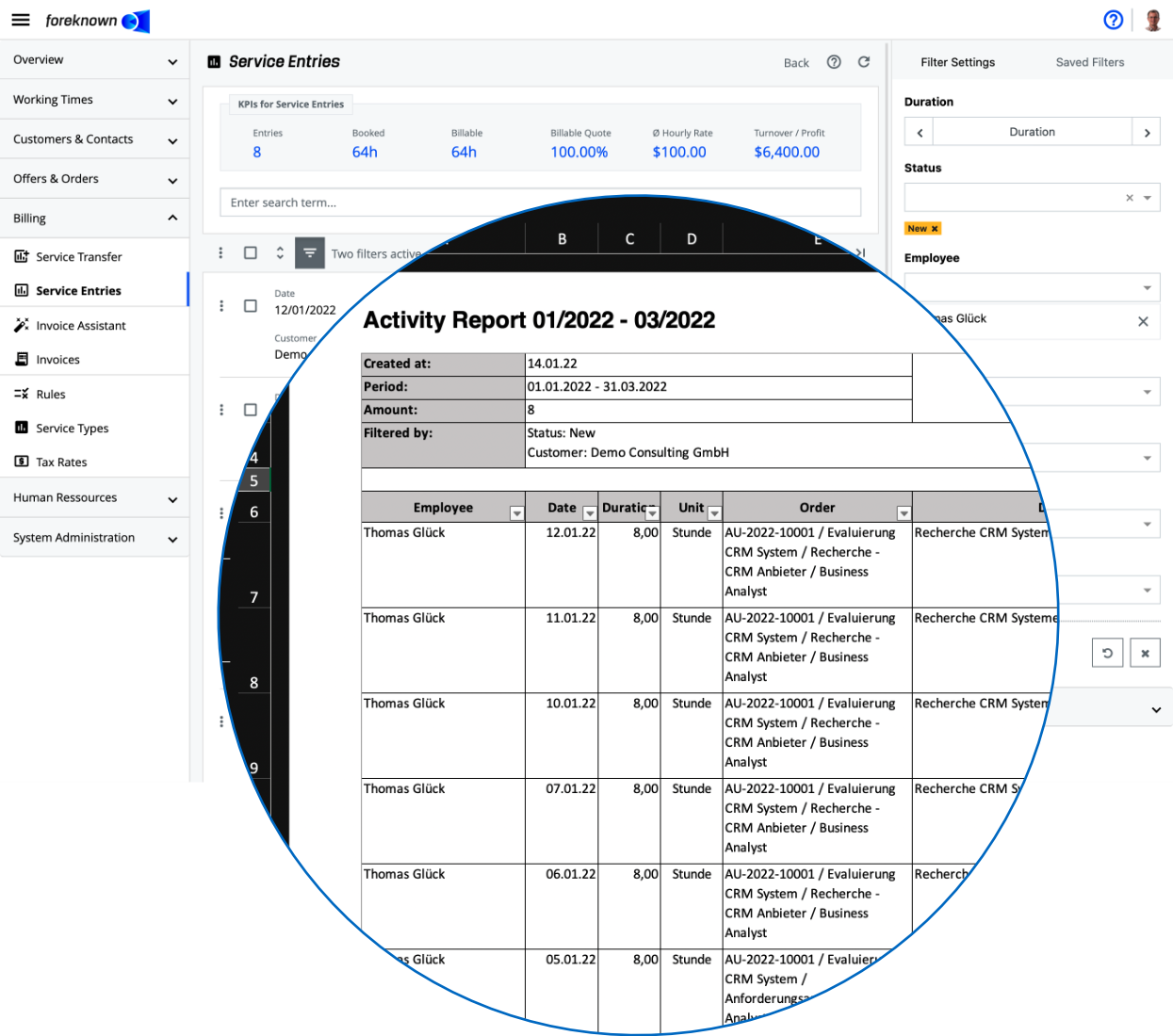 Export Activity Reports
All services on which the invoice items of an invoice are based can be summarized in an activity report and exported to MS Excel documents.
Via the "Service Entries" dialog, service entries can be filtered by invoice or other criteria and exported to MS Excel.
All exports can be based on individually designed MS Excel templates, managed in foreknown.
Get started now
Simply request a demo account and test the full functionality of foreknown free of charge and without obligation for 14 days.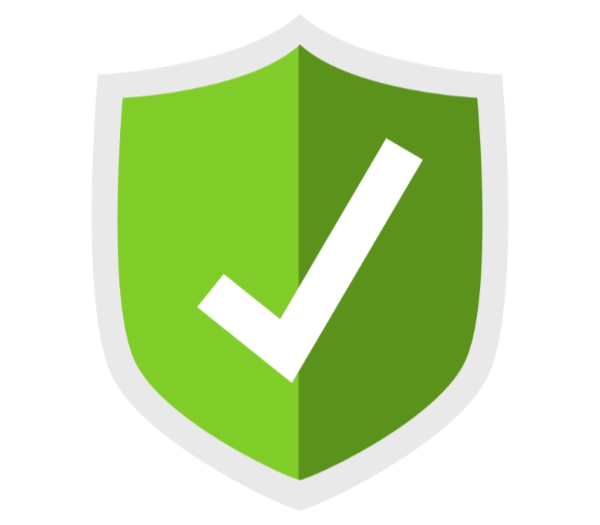 Data Protection & Security
With foreknown you can manage sensitive and personal company data. Therefore, it is important to us to comply with the highest data protection regulations and security requirements.
All servers are operated in Germany.
Hosting of servers is done by a ISO-certified, German company.
GDPR compliant operation is ensured.
The data transmission is encrypted via SSL.
Passwords are encrypted according to the highest security standards.
Sensitive documents such as offers, orders and invoices are encrypted.
All data is encrypted at rest.
Backups are performed daily and are encrypted.
Learn more in our Privacy Policy and Security Statement.