With foreknown we have already provided, as one of the first features, the management of offers, orders and invoices. The design of the templates used for these documents was based on MS Word files. However, it quickly became apparent that our customers found it difficult to implement the individual customizations using MS Word, and compromises had to be made. This was reason enough for us to completely revise the design of these documents. The result is impressive and in this article you can read what has changed.
Individual Templates
Before you create offers, orders and invoices in foreknown, you should first make sure that the templates for these documents have been customized to your individual needs. For this step, you can access all templates in foreknown as an administrator to download the latest version provided by us. In the case of offers, orders and invoices, the templates are no longer based on MS Word files, but on a Freemarker template, which allows a design based on HTML, CSS and Freemarker instructions.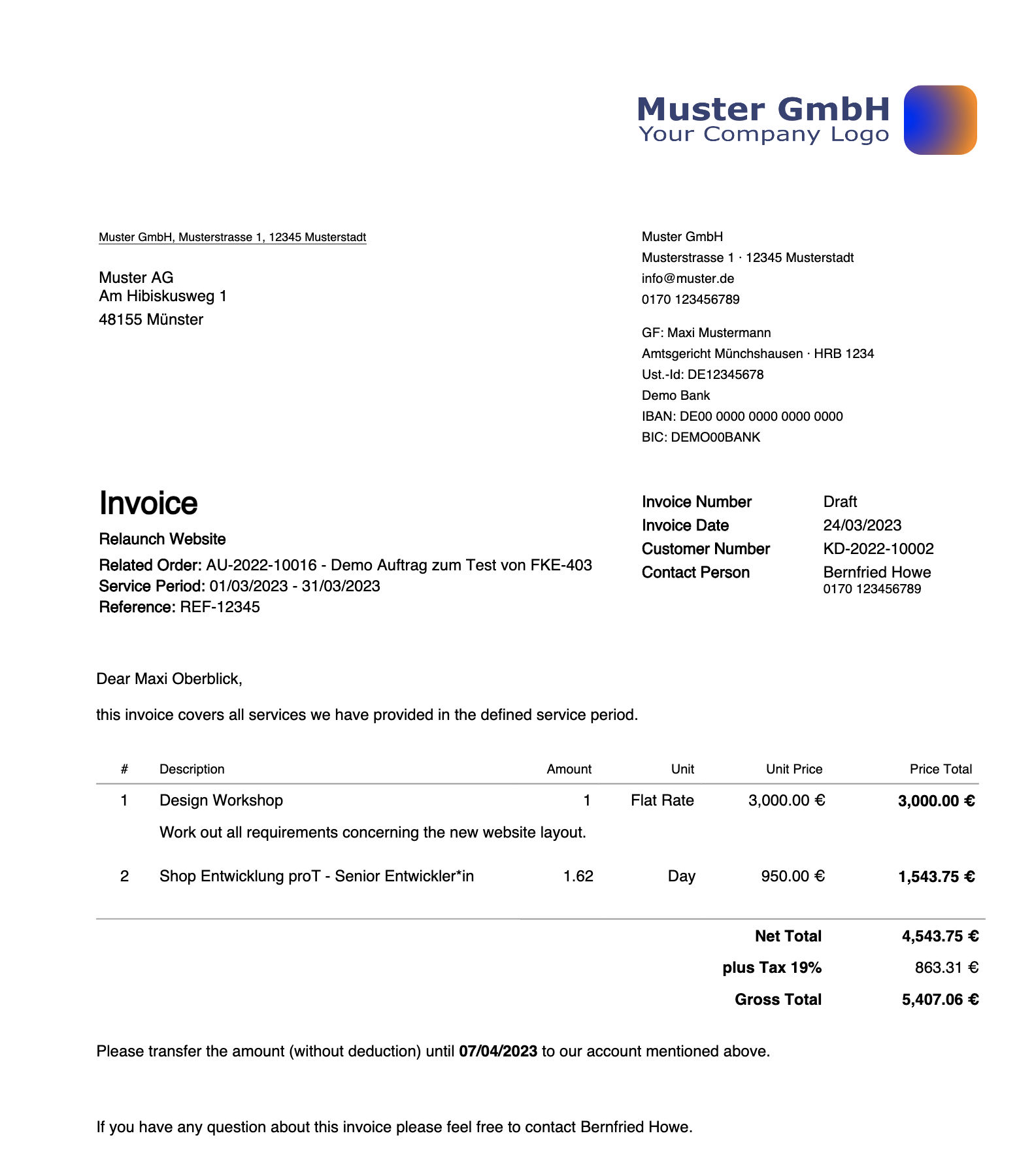 Freemarker is a well-known, widely used template engine from the Apache Software Foundation that is freely available and comes with extensive documentation. Thus, to customize a document template, all that is required is HTML, CSS paired with a few instructions of the Freemarker template language. In the best case, only a logo needs to be replaced in the provided template and the font needs to be adjusted in the CSS to get an individual, professional template for all document types.
Furthermore, via a defined set of variables per template, general information such as the sender data, contact data or other legal information can be customized and integrated into the templates.
See our documentation in chapter "System Administration / Templates" for more details.
Design of Content
But not only the templates make a professional document. It should also be possible to design the content flexibly and correctly. For this reason, we have created the possibility to use texts not only in the introductory and closing sections of a document, but also combined with the positions of an offer, order or invoice.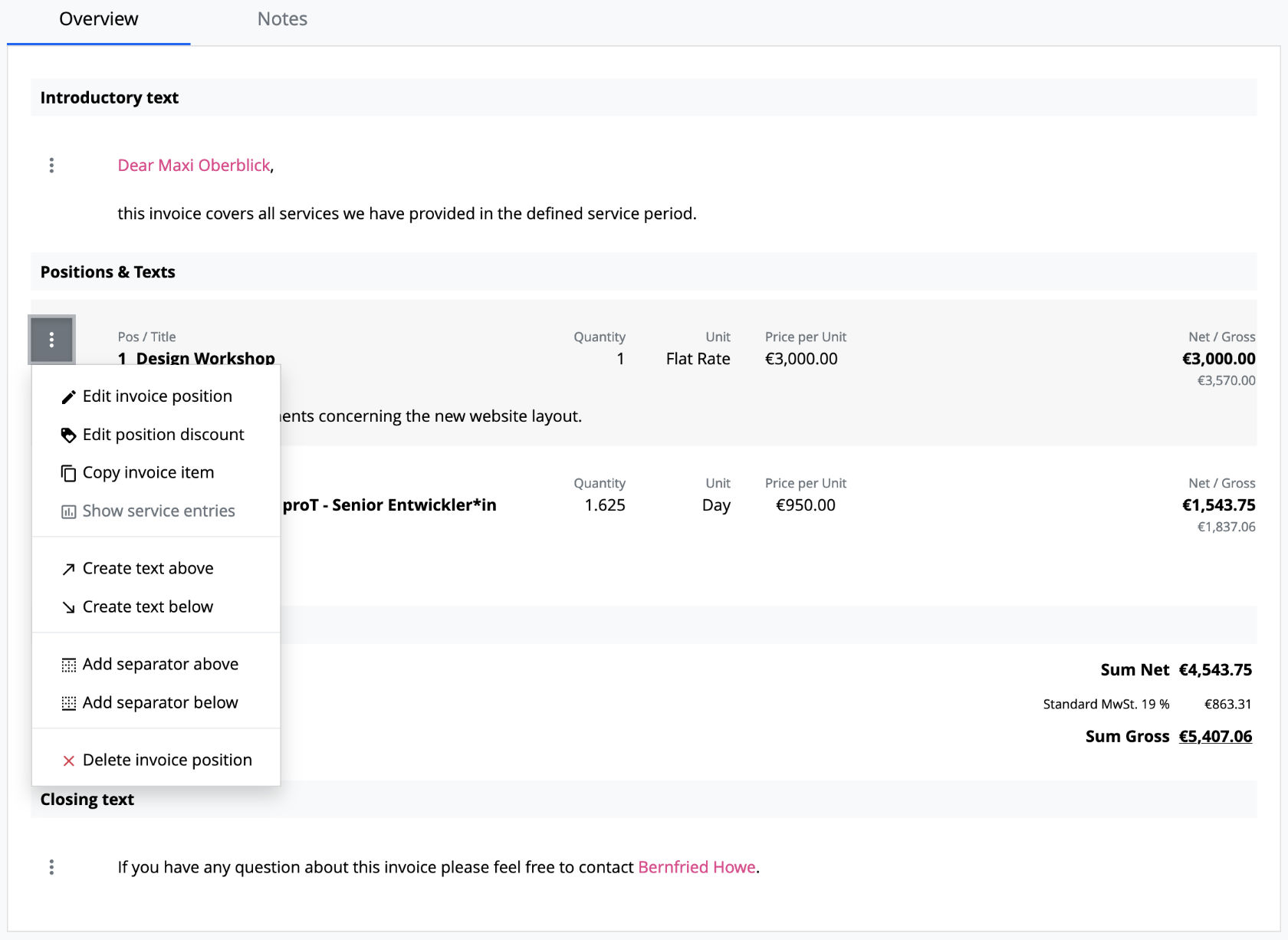 In this way, additional information can also be inserted between the positions of an offer, for example. These texts can be provided with simple formatting and enumerations.
Text Blocks
Certain texts are used over and over again in offers, orders and invoices. Therefore, we now provide the possibility in foreknown to create a set of ready-made text blocks per document type. These text blocks can be provided with placeholders, which are replaced with the desired values when used in an offer, an order or an invoice.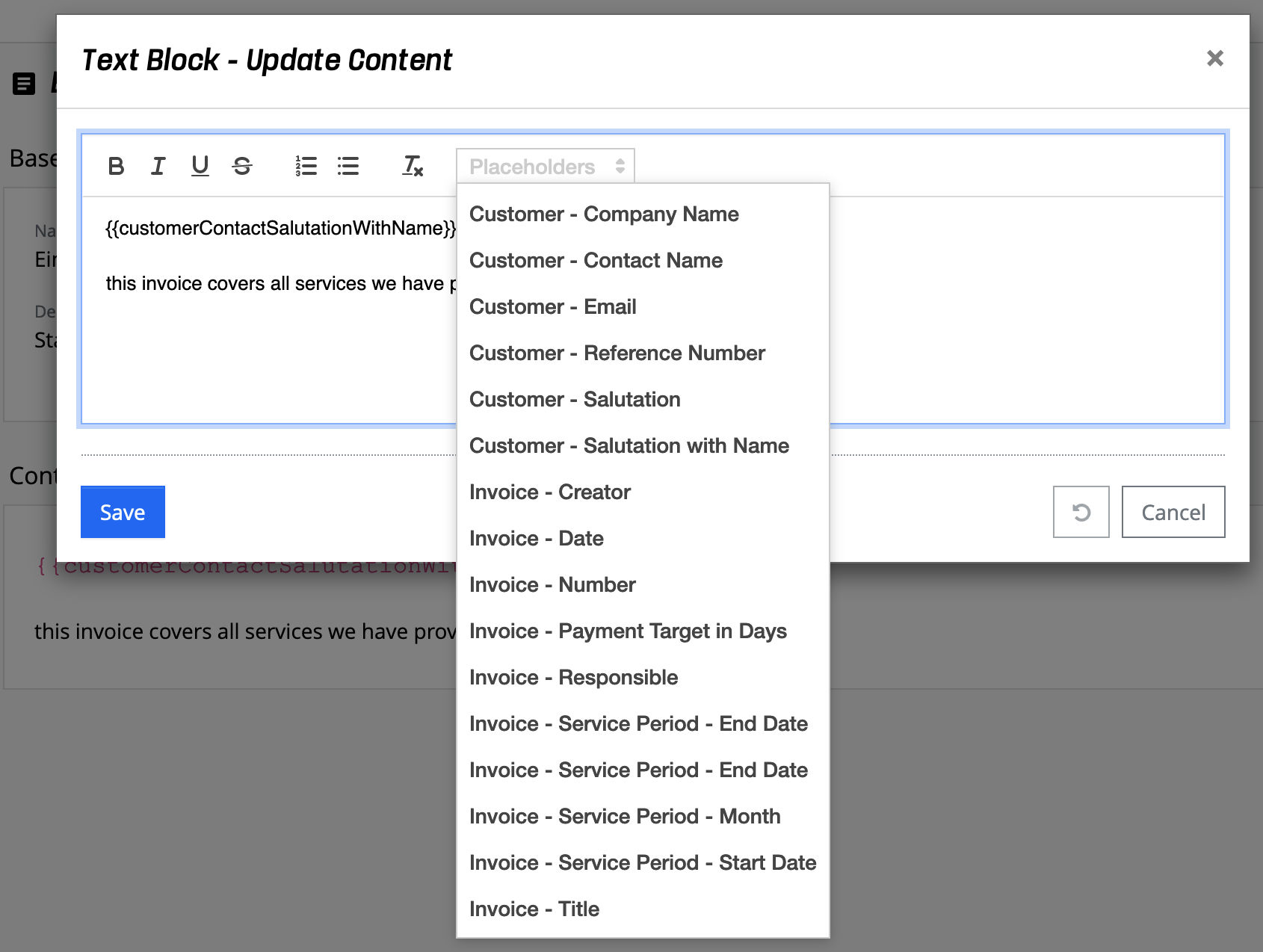 For example, customer data, a contact person, a payment term or a binding period for offers can be inserted dynamically without having to adjust the texts again and again.
In our documentation in chapter "System Administration / Text Blocks" you can find more details about this.
Conclusion
Durch die einfachere Gestaltung von Vorlagen auf Basis von HTML, CSS und Freemarker lassen sich professionelle Dokumente in foreknown erstellen. Kombiniert mit den inhaltlichen Gestaltungsmöglichkeiten und durch die Nutzung von Textbausteinen können Angebote, Aufträge und Rechnungen darüber hinaus nicht nur schneller sondern auch fehlerfreier und einheitlicher mit foreknown erzeugt werden.