A complete working time management includes the proper recording of presence, break and absence times, taking into account EU directives, and combines that with the recording of activities. Read in this article how you can successfully implement this for your company with foreknown.
Working time management is an extensive topic, as many aspects have to be taken into account. For example, a distinction must be made between employees and external providers/freelancers. Furthermore, the company must clarify whether pure presence time or full-time recording is to be implemented. And last but not least, all of this must comply with the legal requirements that were detailed by the European Court of Justice last year and are currently being implemented in the individual EU countries.
Reason enough to deal with these issues in foreknown in order to create a reasonable, easy-to-use solution.
Basics
In order to be able to support the various aspects of recording working and absence times and activities, it is necessary to create certain framework conditions for each person who performs a work activity.
First of all, it must be defined in foreknown whether a person is working as an employee of the company or as an external provider. Because this already determines which types of time recording are possible. For example, an external provider can only record activities (time recording type: project time), since the obligation to record working time lies with his company. For employees, on the other hand, there can be two different types of time recording. The new time recording types of foreknown are described below.
Project Time: This type of time recording is intended for external providers and only enables the maintenance of activities that are usually to be converted into billable services. The maintenance of working times is hidden.
Presence Time: This type of time recording is intended for employees and enables the maintenance of working times. Maintenance of activities is also possible, but no check is made to see if the sum of activities matches the specified working time.
Full Time: This type is also intended for employees and differs from the "Presence Time" type in that the sum of the booked activities must correspond exactly to the booked working time.
These two settings, which are maintained on the employee contract, can thus be used to specify exactly how each individual person should book working times and activities.
Time Recording
The time recording in foreknown has been extensively revised, as we now distinguish between working times and activities and activities are only considered working times for external providers with the time recording type "project time". In the other two cases, the employee must actively maintain his working time by maintaining presence, break and absence times.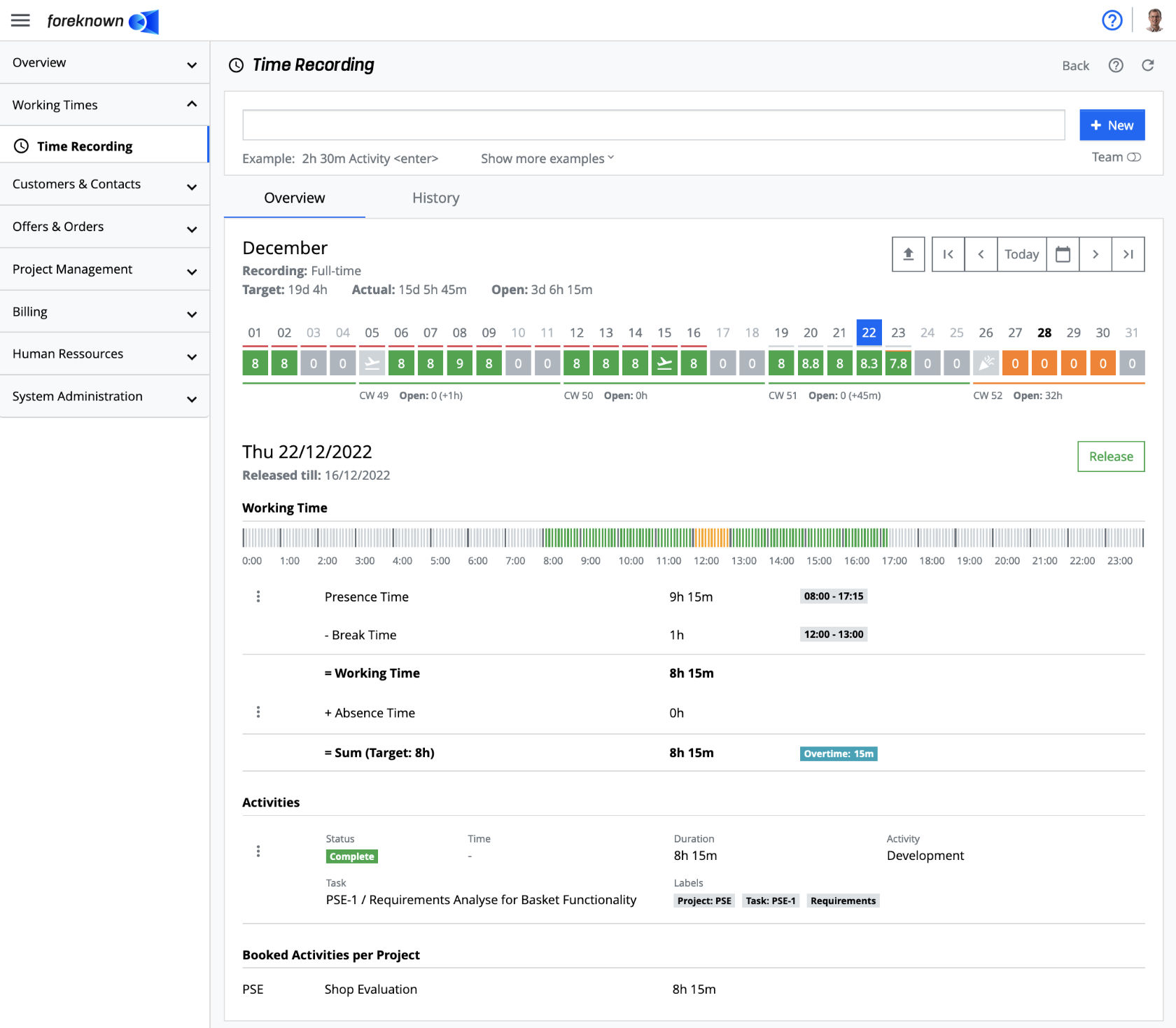 In the dialog "Time Recording" a new area "Working Time" has been added. There you can enter the presence time, several break times and/or an absence time. At the end you see a sum, which is compared with the target working time from the current contract of the employee and then if necessary leads to a under- or overtime.
Since foreknown cannot know if an employee's work and activity record is complete, a "Release" action is provided where the employee can actively set the workday as finished. Any under- or overtime will be added to the employee's working time account. In case of a full-time recording, it is checked whether the working time corresponds to the sum of the activities.
Time Account
The maintenance of presence and absence times is not only used to fulfill legal aspects, but also to determine under- or overtime. In order to provide both employees and team managers with a quick overview, the time account was introduced in foreknown.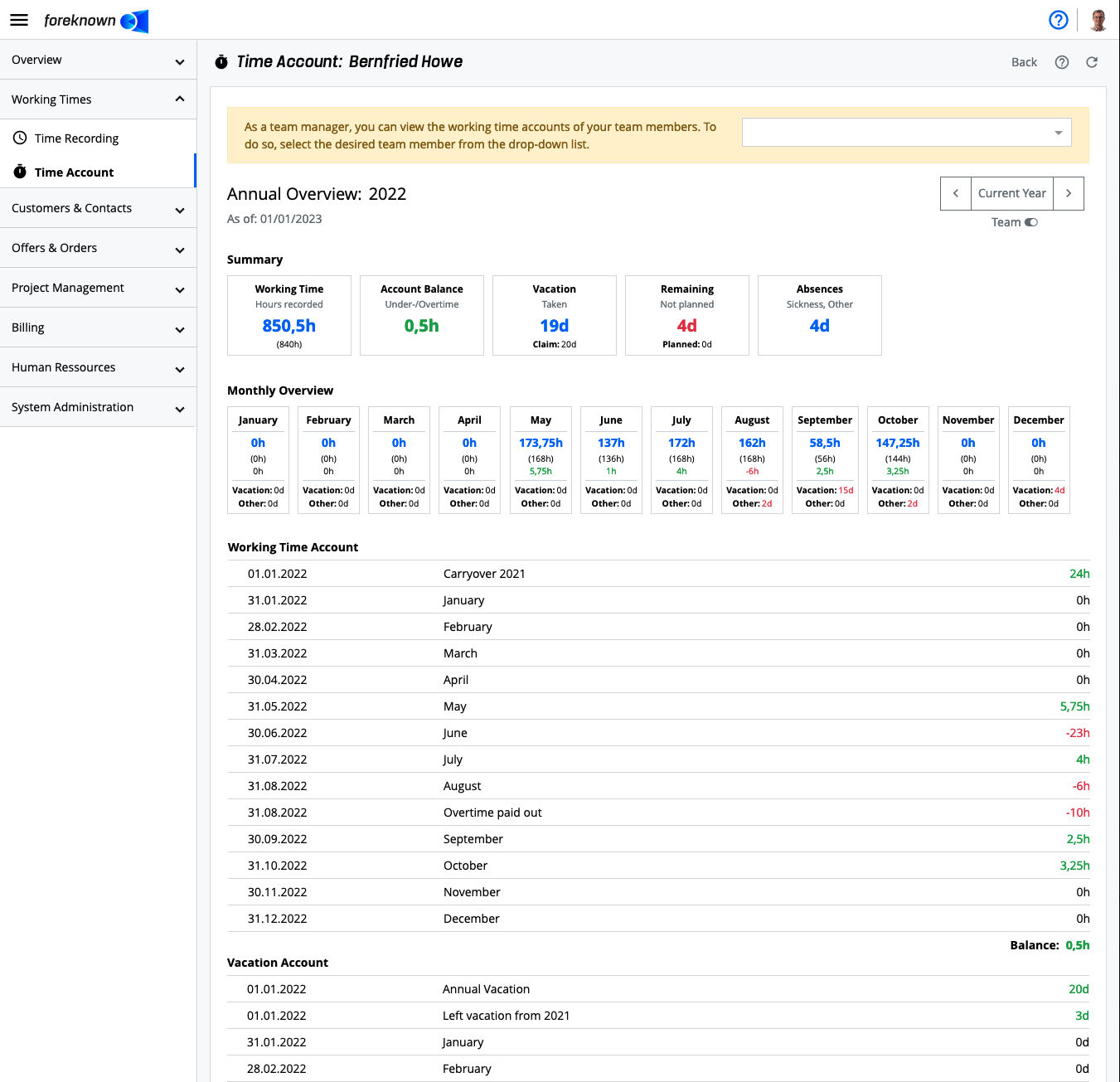 The time account provides important key figures for the current or also for past years.
Working Time
Time Account Balance
Vacation
Remaining Vacation
Absences
In addition, you can find all entries that have been posted to the time account for an employee. For example, to set a start balance, the team manager can post a positive or negative number of hours to an employee's time account. Subsequently, further bookings are made, which result from the released working time bookings per month. At the end of a year, for example, a carryover can be booked for the next year.
The same options are offered for the vacation account, so that an up-to-date status of outstanding vacation entitlements can always be determined.
HR Managers can also view the current account balances for working hours and vacation directly on the employee details.
Conclusion
With the introduction of working time management and the flexible setting options for employees or external providers, foreknown not only provides all the necessary information and processes to meet the legal requirements of proper time recording, but also a clear procedure to enable prompt complete time recording.
This is because the sooner each employee and external provider completely books their working time and activities, the more up-to-date are the key figures from financial controlling and the operational key figures from orders, projects, budgets, tasks and services.